Print-outs are printed pages that a child completes using drawing tools. Yes, it is as boring as it sounds.
Print-outs check what kids already know. Being pre-defined in nature, print-outs do not encourage children to explore their skills.
WE PREFER HANDS-ON LEARNING OVER PRINT-OUTS
Pre-decided lines and drawings limit opportunities for a child. Kids restrict themselves to use their creative skills. It is always beneficial to teach kids from the scratch. Also, it is more interesting and appealing for the kids to develop their own styles. In fact, the young ones learn more from concrete experiences. Print-outs may be too abstract for them.
Back then, people followed a traditional method of learning. There were no print-outs. As a result, there was more practice and use of imagination. The ultimate outcome of using imaginative skills and practice is a skilled artist. Also, it is far more nourishing and empowering for kids to draw and paint on their own. Keeping this in mind, we prefer hands-on learning.
OUR SECRET FOR BEING THE BEST ART SCHOOL
We challenge our kids. Yes, believe me, it is not as harsh as it sounds.
We have come across many preschools and art schools relying on print-outs to teach art. In fact, they are choosing not to find ways to challenge and interest their kids. It is sad to come across instances where teachers do not know what their kids already know.
Print-outs are no solution to what a child needs to learn. Being the best art school does not mean building an artist in a short span. There is no easy way out. It is about inspiring their zeal.
We often narrate the story behind the subject to help them create their own. Also, it has been scientifically proven that creating art has many health benefits. Some of which includes reducing stress level and easing the pain. Thus, we challenge our kids not to make them a better artist but to bring out the best in them.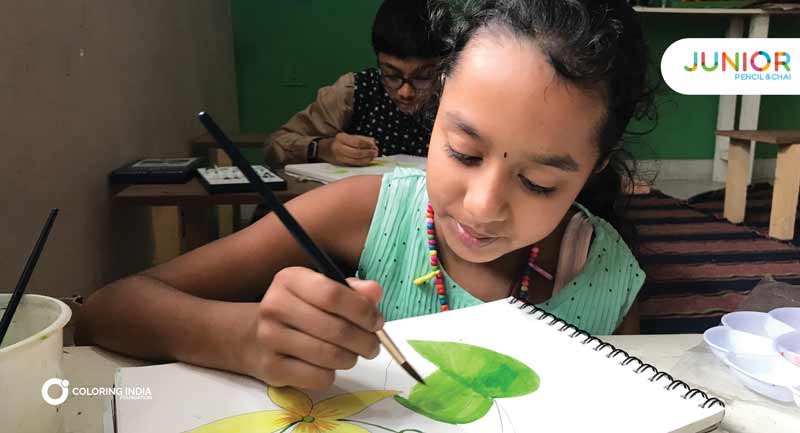 Many children love working from print-outs. Kids love watching television and eating candies as well. Yet, we all know when to stop. In fact, providing what they like does not benefit all the time. 
It is always helpful to determine as to why do they like print-outs over hand-on method. Is it because they are easy and they do not have to think too hard? If so, print-outs will turn them into passive learners. 
Besides, teachers should limit their use of print-outs in favour of better activities. In fact, children should be allowed to promote higher-level thinking and hands-on experiences.
HELP YOUR KIDS STAY AWAY FROM COPYING SKILLS
JOIN THE BEST ART SCHOOL IN BANGALORE
Junior Pencil and Chai, Bangalore is the only art school to impart hands-on drawing to bring out the best in kids. 
Remember, Your Kids Are Our Kids